This poster will be updated as additional evidence emerges from ongoing investigations.
*About the poster Celtic wheel cross logo: Theme: We are praying that you will repent of your corruption and see the light of Jesus Christ.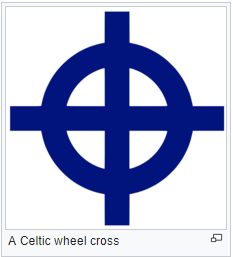 From Wikipedia: Ringed crosses similar to older Continental forms appeared in Ireland and Scotland in incised stone slab artwork and artifacts like the Ardagh chalice. However, the shape achieved its greatest popularity by its use in the monumental stone high crosses, a distinctive and widespread form of Insular art. These monuments, which first appeared in the 9th century, usually (though not always) take the form of a ringed cross on a stepped or pyramidal base. The form has obvious structural advantages, reducing the length of unsupported side arms. There are a number of theories as to its origin in Ireland and Britain. Some scholars consider the ring a holdover from earlier wooden crosses, which may have required struts to support the crossarm. Others have seen it as deriving from indigenous Bronze Age art featuring a wheel or disc around a head, or from early Coptic crosses based on the ankh. However, Michael W. Herren, Shirley Ann Brown, and others believe it originates in earlier ringed crosses in Christian art. Crosses with a ring representing the celestial sphere developed from the writings of the Church Fathers. The "cosmological cross" is an important motif in Coelius Sedulius's poem Carmen Paschale, known in Ireland by the 7th century.
See TIMELINE: People you trusted are now hijacking the Internet.
Notice: This page and its links may contain opinion. As with all opinion, it should not be relied upon without indepdendent verification. Think for yourself. Fair Use is relied upon for all content. For educational purposes only. No claims are made to the properties of third parties.